In Harmony
In Harmony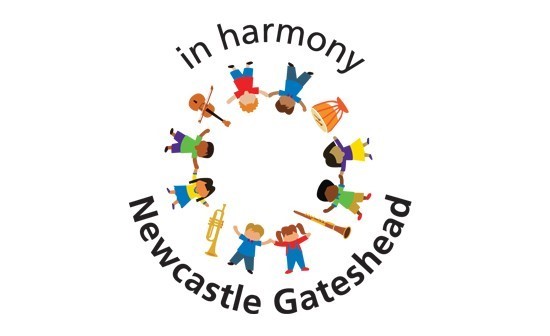 In Harmony is a national initiative that aims to inspire and transform the lives of children through community-based orchestral music-making. Established by Government and now funded by Arts Council England and the Department for Education in conjunction with individual donors, trusts and foundations.
This immersive orchestral music making programme improves the life chances of children and young people in the West End of Newcastle, by increasing confidence, wellbeing, resilience and educational attainment.
By working in partnership, In Harmony helps build stronger communities, generating pride, hope and aspiration.
Since 2017 Bridgewater has been part of the In Harmony project, working with The Glasshouse International Centre for Music. Inspired by the principles of Venezuela's inspirational El Sistema – every child in the school is taught a musical instrument and plays in small or large groups (ensembles), which helps them work towards playing in an Orchestra!
The children have one individual lesson a week from one of our music tutors who have become part of the Hawthorn family. These tutors are excellent musicians who love teaching our children. Find out more about them on the tutor page.
Since the beginning of the project the children have had experiences most of us could only dream of. They have often had the chance to play at The Glasshouse International Centre for Music and have developed a special relationship with our friends from Royal Northern Sinfonia. These talented musicians often work alongside our children in school and invite us along to concerts and events at The Glasshouse International Centre for Music.
The children really enjoy performing and have shared their music with local primary schools, our local community and across Newcastle. Of course some of our favourite concerts take place in our school hall with our wonderfully supportive parents cheering us on. Our Symphony Orchestra enjoys meeting up with other In Harmony groups especially our fellow young musicians at Hawthorn Primary School, who helped us celebrate In Harmony Newcastle Gateshead's 10th Birthday Festival this year, in several performances across our community in the West End of Newcastle. The month long celebrations ended with a fantastic finale concert at The Glasshouse International Centre for Music in June 2022, with around 700 In Harmony children performing and supporting each other's performances.
Of course, the real stars are the children themselves; it is always incredibly emotional watching the children progress from when they first receive their instruments in year 1, to the young musicians that they become by the time they move on to secondary school at the end of year 6. As a school we are incredibly proud of all of our young musicians and their hard work to become young musicians.
Many children are able to keep playing at secondary school and through the Step Up and the Centre for Advanced Training (CAT) Programmes at The Glasshouse International Centre for Music. Through these programmes the children are able to receive specialist tuition and support to ensure that they achieve their full potential.
To find out more about what each year group have been doing in their weekly sessions, please select the relevant page listed below.
Please find below a link to the In Harmony website where you will find two videos for their 10th birthday celebrations.
In Harmony Newcastle Gateshead | The Glasshouse International Centre for Music