School of Sanctuary
School of Sanctuary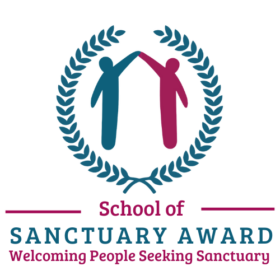 We are a School of Sanctuary.
A School of Sanctuary is a school that is committed to being safe and welcoming to all, especially those seeking sanctuary. This includes people whose lives were in danger in their own country, who have troubles at home or are just looking for a space of safety.
A School of Sanctuary is a school which helps its pupils, staff and wider community to understand what it means to be seeking sanctuary and to extend a welcome to everyone as equal, valued members of the school community. It is a place for all to feel safe, seen, supported and included.
We strive to ensure that we provide opportunities to learn, understand and take actions to support those who are seeking sanctuary. We will embed concepts of welcome, safety and inclusion throughout school life and the curriculum. We aim to share these values across the whole school and the wider local community.

Information Now
A useful website full of information, local organisations, events and activities.
Visit InformationNOW to find out about everything from benefits advice to friendship groups and community centres.
Watch the video here to find out how it can help you www.informationnow.org.uk/about-us/